The Watch Tower
Love fantasy inspired miniatures? Then you are going to love our 1:48th Watch Tower kit..!
The Watch Tower is a magical tower house, inspired by Tolkien and features four internal rooms, spread over four floors... crowned by a dramatic observation turret at the very top!

The kit includes: 'full colour' step by step instructions, pre cut carcass, external vernacular detailing, doors, windows, glazing and much more...
Our unique Watch Tower Kit is priced at only £32.99!!
(Pictures show a constructed & decorated kit)
A separate base kit is also available - £5.99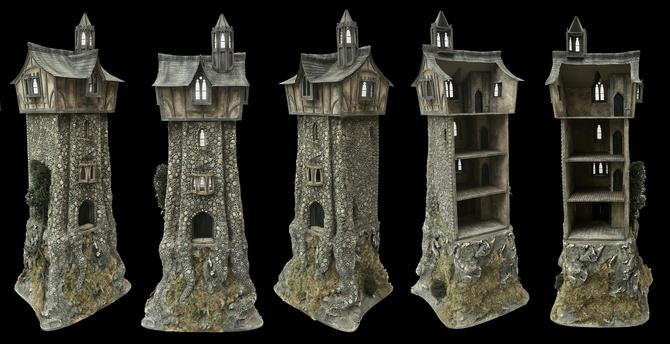 The kit above is shown fully constructed & decorated and mounted on a landscaped base.
To paint my Watch Tower I used the following colours from Petite Properties' paint range:
Interior
Floorboards & interior woodwork: Dirty Stone Mortar, Stormy Skies,
Wishy Washy Stone & Wood Stove
Interior walls: Dirty Stone & Wishy Washy Stone
Exterior
Stonework: Soot Ash, Dirty Stone Mortar, Wishy Washy Stone, Mucky Paint & Grandma's Green
Exterior beams & woodwork: Soot Ash & Itchy Blanket
Exterior plaster: Dirty Stone & Wishy Washy Stone
Roof tiles: Soot Ash, Dirty Stone Mortar & Grandma's Green
Entrance door & internal doors: Wood Stove
To tile the roof I used 1 pack of Petite Properties 'Wonky Roof Tile' Strips - £5.99 each
There is also a separate display base available for the Watch Tower:
Watch Tower Display Base: £5.99 (WTDB48)
We also have a range of inexpensive furniture kits which would suit this property, so do check our online shop for further details...