1:24th Greenhouse Kit...
Half Scale 'Country Garden' Collection...
Available Now!
New 'Intermediate' 1:24th Kit
In this exciting new 'Intermediate' Garden range all of the architectural elements of the Greenhouse have already been precision cut for you -
All you need to do is simply add paint and glue!
Pictures show a constructed and painted kit...
Visit our online shop for more information
or to order your
1:24th Greenhouse Kit today!!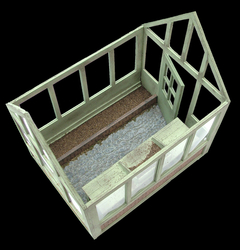 The NEW 1:24th
'Greenhouse Kit '
is priced at ONLY £14.99
(Plus P&P)