1:76 No.12 Station Road
No.12 Station Road for OO Gauge...
We are delighted to introduce Petite Properties' eighth 1:76 scale kit: No.12 Station Road. This traditional Victorian style terraced shop has been designed specifically for OO Gauge railway layouts.
The main carcass of this kit is made from 2mm MDF, in order to provide a strong structure that is able to take any exterior finish required.
The kit also includes pre cut external vernacular detailing, such as the shop frontage & signage, alongside doors and features pre-cut apertures in the base for lighting access. The kit also comes with pre printed windows and full colour, step by step instructions.

Uniquely this kit is available as either a 360 degree kit or alternatively as a LOW RELIEF kit.
Our 1:76 No.12 Station Road kit is priced at just £11.99 (for the 360) or £7.99 for the LOW RELIEF Kit.
PLEASE NOTE: This kit is now available to purchase via our online shop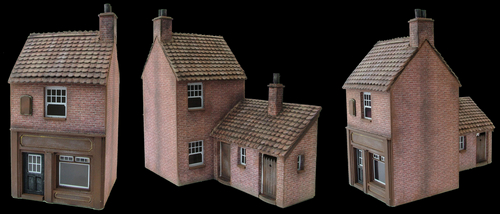 No.12 Station Road in 1:76 - Pictured constructed & decorated

This kit has been finished using the following colours from Petite Properties' exclusive paint range:
Red Squirrel

Old Beams
Wood Stove

Mucky Paint

Top Of The Milk

Grandma's Green