1:76th Lych Gate...
The Old Lych Gate in OO Gauge...
'The Old Lych Gate' has been designed to complement our 1:76 St. Thomas' Church and is really easy construct!
'The Old Lych Gate' can be decorated to suit any regional vernacular style and comes with full colour, step by step instructions!
This versatile kit is priced at just £2.99 and following its official launch at the 2014 Warley National Model Railway Exhibition it is available to purchase via our online shop!
St Thomas' Church in 1:76 - Pictured above left: constructed & decorated, above right: constructed & undecorated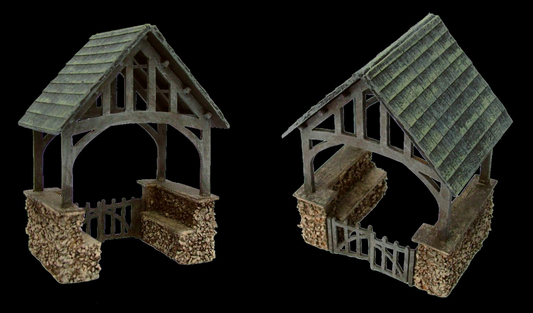 This kit has been finished using techniques taken from Bea's latest book on exterior finishes and decorated using the following colours from Petite Properties' exclusive paint range:
Dirty Stone Mortar

Dirty Stone

Wishy Washy Stone

Mucky Paint

Soot Ash

Stormy Skies

Itchy Blanket

Grandma's Green
---
Our 1:76th Lych Gate kit is available to purchase via our online shop